Fixed Pressure CPAP Freedom Plan - Philips Respironics DreamStation Pro
Out of Stock
The Fixed Pressure Freedom Plan has been designed to provide everything you need to commence treatment and more.
Commence treatment with just $1 upfront* + $25 fortnightly payments over 3 years
No large out-of-pocket costs and interest payments
No penalty to pay plan off faster
Freedom to mix and match CPAP brands
The Philips Respironics DreamStation Pro is the latest in innovative and patient-driven fixed pressure CPAP machine designed to be as comfortable and easy to experience as sleep is intended to be. It features a simple interface with straight-forward navigation menus and a front-facing display which can be operated lying down or sitting up in bed. It comes with a single piece humidifier water chamber that is easy to clean and operate. Connecting patients and care teams, DreamStation devices empower users to embrace their care with confidence, and enable care teams to practice efficient and effective patient management.
Plan Inclusions
The table below details the product and service inclusions, as well as when you can expect to receive them.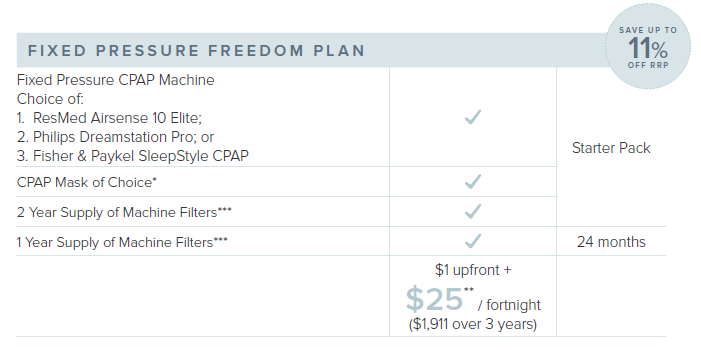 DOWNLOADS:
Freedom Payment Plans Brochure
Out of stock
Working hard to load all the data…