Get empowered to make a change and embrace your weight and fitness goals with activity and sleep tracking, calories burned & more on easy-to-use Fitbit Inspire
features
All-Day Activity:

Every part of your day impacts your goals, so Fitbit Inspire and Inspire HR track all-day steps, distance, active minutes and calories burned.

All-Day Calorie Burn:

Check Inspire and Inspire HR or the Fitbit app to see how many calories you're burning throughout the day so you can keep your nutrition on track.

Food Logging:

Make the most of the app by logging your meals and comparing calories eaten to calories burned as you go for your goals.

Automatic Exercise Recognition:

Fitbit Inspire and Inspire HR use SmartTrack to automatically recognise workouts like walks, runs, swims, bike rides and more, then records them for you in the Fitbit app.

Up to 5 Days of Battery:

With a battery life up to 5 days, keep the inspiration coming day and night.**

Swimproof + Swim Tracking:

Swimproof, so you can wear your tracker in the shower, pool and beyond.* Plus, it automatically tracks how long you're swimming.

Sleep Tracking:

Understand your rest to improve it with automatic sleep tracking and silent alarms on your wrist & bedtime reminders and helpful tips in the app.

Intuitive Touchscreen Display:

The Inspire and Inspire HR touchscreen has a backlit OLED display and responds to natural swiping and scrolling.

On-Screen Dashboard:

An easy-to-use dashboard tracks steps & calories burned, encourages you to get active, hydrate & more right on your wrist.

Reminders to Move:

Get friendly reminders that encourage you to stretch your legs and take 250 steps every hour—and get recognition when you hit that 250!

Notifications:

Stay connected on the go with updates from social media apps and call, calendar and text alerts. Available on-device when your phone is nearby.

Timer & Stopwatch:

Instant access to tools that make your life easier—like a timer for when you cook healthy meals & a stopwatch for tracking sets at the gym.

Female Health Tracking:

Understand your body on a deeper level by using your tracker with the Fitbit app to follow your cycle, record symptoms and more.

Clock Faces:

Customise Inspire and Inspire HR with lots of clock faces options, like a helpful stats clock face for workouts or a polished clock face for work.

Wireless Sync:

Fitbit Inspire and Inspire HR automatically connect to 200+ Android, iOS and Windows 10 devices to give you a cohesive view of your progress dashboard in the app.

Fashion Forward:

Fitbit Inspire and Inspire HR are lightweight and stylish with a sleek appearance that blends seamlessly with the jewellery you already love to wear.

Bands and Accessories:

Wear them your way by switching out the classic band for accessories with fun patterns, sophisticated metal mesh, premium Horween® leather or a subtle clip. Sold separately.

Clip for Inspire only.
Inclusions:
Fitbit Inspire
Classic wristbands (both small & large)
Charging cable
Fitbit Inspire Sensors & Components
3-axis accelerometer
Vibration motor
Display
Touchscreen
Greyscale OLED
Battery and Power
Fitbit Inspire and Inspire HR have up to 5 days of battery. Battery life and charge cycles vary with use, settings and other factors; actual results will vary. We recommend charging your tracker every few days to ensure you are always tracking.
Battery type: Lithium-polymer
Charge time (0-100%): Two hours
Radio transceiver: Bluetooth 4.0
Memory
Saves 7 days of detailed motion data – minute by minute
Saves daily totals for the last 30 days
Water Resistance
Fitbit Inspire and Inspire HR are water resistant to 50 metres. After swimming or getting the band wet, we recommend drying the band because, as with any wearable device, it's best for your skin if the band is clean and dry. We do not recommend wearing Inspire or Inspire HR in a hot tub or sauna. See www.fitbit.com/productcare for more details.
Care
If the band gets wet or if you sweat in it, remove and completely dry it before putting it back on. Give your wrist a rest by taking the band off every now and then.

Materials
The Fitbit Inspire band is made of a flexible, durable elastomer material similar to that used in many sport watches, and fastens with a peg and loop.
The Fitbit Inspire HR band is made of a premium, comfortable silicone (also similar to that used in many sport watches) and fastens with an aluminium buckle and tang.
Heart Rate
Like all heart rate tracking technologies, accuracy is affected by physiology, location of device and different movements.

Environmental Requirements
Operating temperature: -10° to 45° C
Maximum operating altitude: 8,535 m
Syncing
Fitbit Inspire and Inspire HR sync automatically and wirelessly to 200+ leading iOS, Android & Windows 10 devices using Bluetooth LE wireless technology.
Syncing range: Up to 6 m
Syncing requires Bluetooth LE and Internet connection. Windows 10 computers that do not have Bluetooth LE will need a wireless sync dongle in order to sync.
Both small and large sizes included in box. Print this guide to find your fit.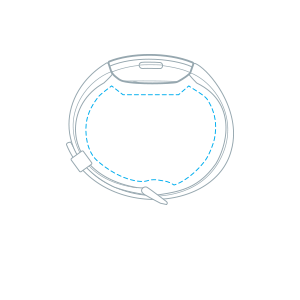 Small: Fits wrists 140 mm - 180 mm in circumference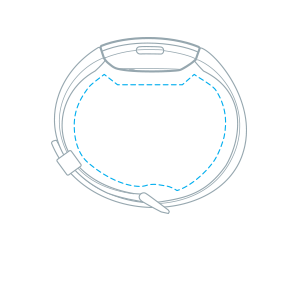 Large: Fits wrists 180 mm - 220 mm in circumference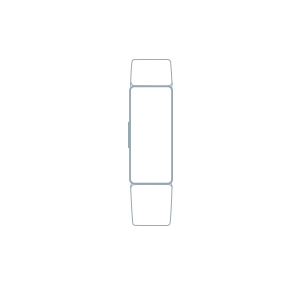 Device Dimensions: 37 x 16mm