Live your best life with Fitbit Versa family—health and fitness smartwatches that last 4+ days and feature activity, sleep and heart rate tracking, notifications, apps, & more.
Features
All-Day Activity:

Track steps, heart rate, distance, calories burned, active minutes, hourly activity & stationary time.

Swimproof & Tracks Swims:

Water resistant to 50M for wear in the pool or rain.

Real-Time Pace and Distance:

Learn more about your runs and hikes by connecting to your phone's GPS to see pace and distance on display, plus get a map of your route in the Fitbit app.

Bluetooth:

Connect Fitbit Versa to wireless Bluetooth headphones like Fitbit Flyer to listen to your favourite tunes – without the wires.

Apps:

Access your favourite apps for fitness, sports, news, travel, transport and more with a simple tap.

Smartphone Notifications:

See call, text or calendar notifications on screen and get push notifications from your favourite apps. Available when your phone is nearby.

Over 4 Days of Battery Life:

With a multi-day battery life of more than four days, Fitbit Versa tracks your morning, night and everything in between.*

Heart Rate Tracking:

Better track calorie burn, optimise effort during workouts, see your resting heart rate trends and discover your cardio fitness level.

15+ Exercise Modes:

Track specific workouts in modes like Run, Bike or Weights to see real-time stats on screen and get post-workout summaries.

SmartTrack:

Automatically record selected exercises like running, biking and more, and see them saved in the Fitbit app.

Female Health:

Use Versa family watches and the Fitbit app to log your period, record symptoms & compare your cycle against other health stats like sleep, activity and weight.

Personalised Reminders:

Stay on track towards your goals with personalised reminders that remind you to stay active, get hydrated, stick to a sleep schedule and more.

Sleep Tracking & Stages:

See your time spent in light, deep and REM sleep stages and get personalised insights to help you improve.

Cardio Fitness Level:

Get a better understanding of your fitness level and see how you can improve over time with a personalised Cardio Fitness Score.

Guided Breathing Sessions:

Find moments of calm throughout your day with personalised breathing sessions based on your heart rate.

Customisable Clock Faces:

Personalise the hi-res colour touch screen on Fitbit Versa family watches by choosing from a variety of clock faces designed for any occasion.

Syncs Wirelessly:

Sync stats wirelessly and automatically to computers and over 200 leading iOS, Android and Windows devices.

Accessory Bands:

Change your look with classic, leather, metal and woven accessory bands.

Lightweight Design:

Designed with a super light geometric case, the Versa family watches are slim, casual and comfortable enough to wear all day and night.

Dashboard:

Set goals, track progress and get a more complete picture of your health and fitness – all on the Fitbit app.

Hi-Res Touchscreen:

Amplified brightness up to 1000 nits & durable screen made from Corning® Gorilla® Glass 3.
Inclusions
Fitbit Versa Lite Edition watch
1 navigation button
Classic wristband (both small & large)
Charging cable
Fitbit Versa Family Sensors & Components
3-axis accelerometer
3-axis gyroscope (not included on Versa Lite Edition)
Optical heart rate monitor
Altimeter (not included on Versa Lite Edition)
Ambient light sensor
Vibration motor
WiFi antenna (802.11 b/g/n, not included on Versa Lite Edition)
SpO2 sensor
NFC
Battery and Power
Fitbit Versa Lite Edition, Versa and Versa Special Edition all have a battery life of 4+ days. Battery life and charge cycles vary with use, settings, and other factors; actual results will vary. We recommend charging your watch every few days to ensure you are always tracking.
Battery type: Lithium-polymer
Charge time (0-100%): Two hours
Radio transceiver: Bluetooth 4.0
Memory
Saves 7 days of detailed motion data – minute by minute
Saves daily totals for the last 30 days
Stores heart rate data at one-second intervals during exercise tracking and at five-second intervals all other times
Water Resistance
Fitbit Versa Lite Edition, Versa and Versa Special Edition are water resistant to 50 metres. After swimming or getting the band wet, we recommend drying the band because, as with any wearable device, it's best for your skin if the band is clean and dry. We do not recommend wearing Fitbit Versa Lite Edition, Versa or Versa Special Editions in a hot tub or sauna. See www.fitbit.com/productcare for more details.
Care
If the band gets wet or if you sweat in it, remove and completely dry it before putting it back on. Give your wrist a rest by taking the band off every now and then.

Materials
The Fitbit Versa Lite Edition and Versa classic band is made of a flexible, durable material similar to that used in many sports watches, and includes an aluminium watch case and buckle. The woven band is made from a comfortable polyester and includes an aluminium watch case and buckle.
Heart Rate
Like all heart rate tracking technologies, accuracy is affected by physiology, location of device and different movements.

Environmental Requirements
Operating temperature: -10° to 60° C
Maximum operating altitude: 8,535 m
Syncing
Fitbit Versa Lite Edition, Versa and Versa Special Edition sync automatically and wirelessly to 200+ leading iOS, Android & Windows devices using Bluetooth LE wireless technology.
Syncing requires Bluetooth LE and Internet connection. Windows 10 computers that do not have Bluetooth LE will need a wireless sync dongle in order to sync.
Syncs with Mac OS X 10.6 and up, iPhone 4S and later, iPad 3 gen. and later, Android 5.0 and later and Windows 10 devices.
Music control via Bluetooth Classic on Android and Windows devices. Music control via Bluetooth LE on iOS devices.
Both small and large sizes included in box. Print this guide to find your fit.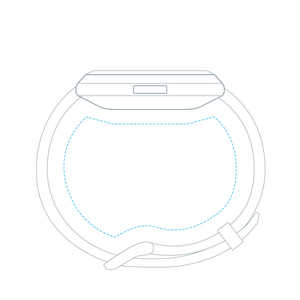 Small: Fits wrists 140 mm - 180 mm in circumference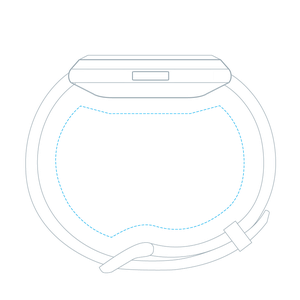 Large: Fits wrists 180 mm - 220 mm in circumference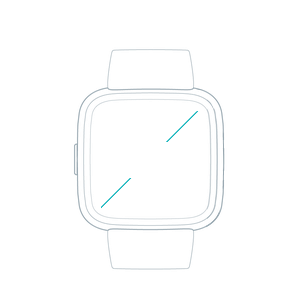 Screen Size: 24.075 mm x 24.075 mm