COVID-19 Rapid Antigen Testing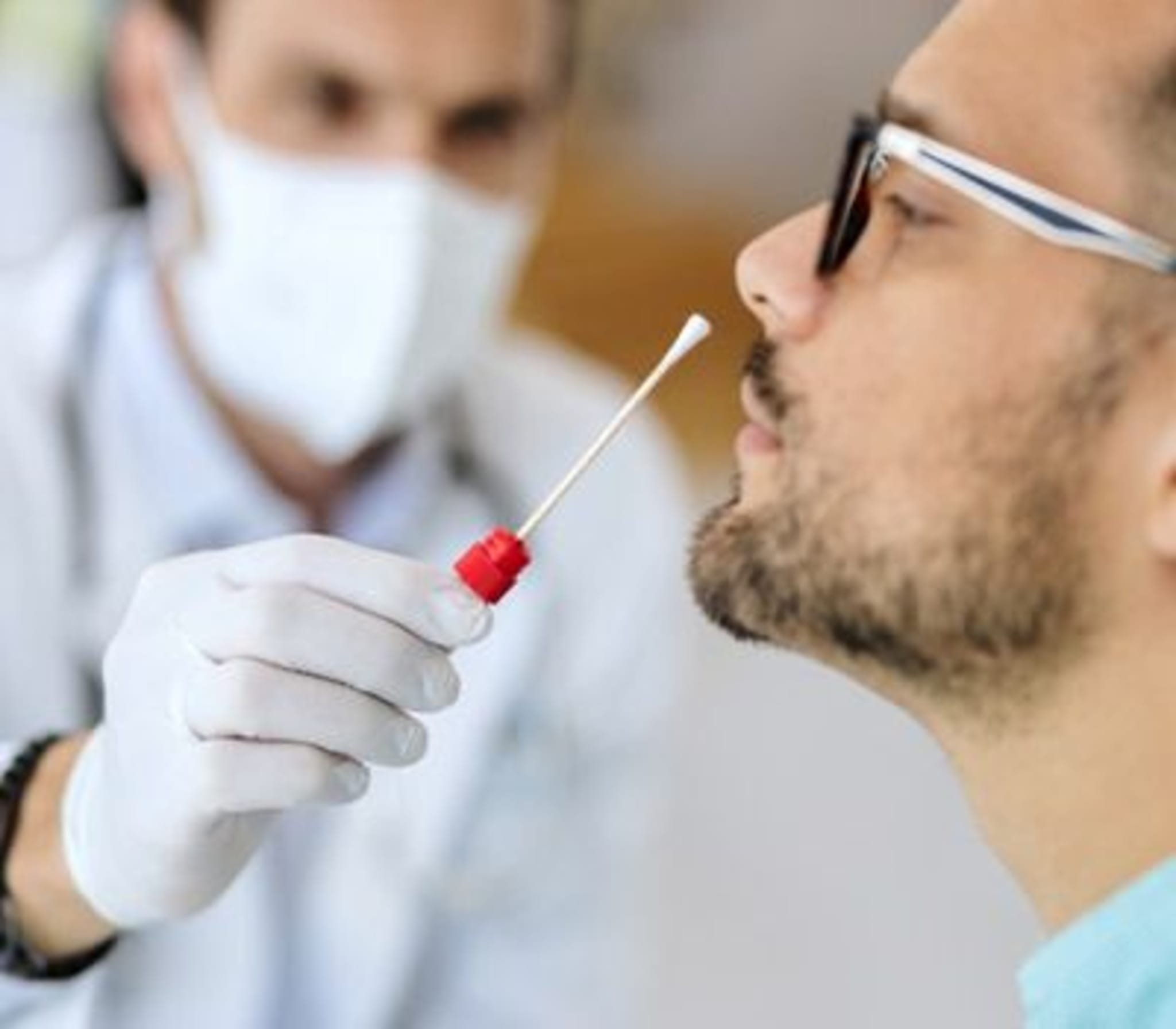 Rapid Antigen Testing available for sale to health practitioners directly and businesses seeking testing solutions with comprehensive health practitioner oversight.
Cost-effective way to safeguard your business and provide employees and customers with peace of mind


Easy to administer test – conducted with a simple nasal swab


Results in 15 minutes


Tailored solutions including planning, test flow and processes


Access to our multidisciplinary medical specialist team in Respiratory, Sleep & Cardiology


Self-collection possible under the supervision of a trained supervisor


Comprehensive turn-key solution enables you to focus on your business



Enquire Now!
Please note, COVID-19 Rapid Antigen Tests only provide preliminary test results, as they are not as accurate as a standard polymerase chain reaction (PCR) testing. Negative test results do not exclude infection with COVID-19, and so appropriate PPE and hygiene practices must be in place. Rapid Antigen Tests are NOT available for home use/self-testing, and must only be used by health practitioners or persons under their supervision who have been adequately trained in the correct use of the test device and the interpretation of the test results. Rapid Antigen Testing is not appropriate for symptomatic patients, close contacts or casual contacts – these people must get a PCR test and self-isolate. Similarly, persons with positive Rapid Antigen Test results require immediate confirmatory testing with a PCR test.
Rapid Antigen Testing for Businesses
As COVID restrictions ease and businesses look to re-open, Rapid Antigen Testing is an important tool in any COVID-safety plan by offering a simple, onsite solution for COVID-19 screening for asymptomatic cases. Whilst polymerase chain reaction (PCR) testing remains the gold-standard, results can often take days. Rapid Antigen Tests can provide a quick, on-site screening tool with results in minutes.
Rapid Antigen Testing can be helpful in a range of different settings, clinical and non-clinical, including construction sites, educational institutions, fixed and temporary community-based sites, aged care residential facilities and commercial businesses such as food production sites. We provide you with the peace of mind and confidence to provide a safe workplace for your employees and customers as we navigate a post-lockdown environment.
It is a regulatory requirement that businesses must either employ or engage the services of a health practitioner, who will be responsible for controlling the risks to workers, student safety and welfare that may arise while providing a testing service.
Sove CPAP Clinic is a leading provider of Respiratory, Sleep and Cardiology services and products. We have a clinical team of medical specialists in the fields of Respiratory, Sleep and Cardiology that provide oversight and supervision for businesses looking to implement Rapid Antigen Testing. Speak to us today about how we can help your business with testing solutions.
FAQs
What is a Rapid Antigen Test?
A Rapid Antigen Test is a quick and effective screening test for COVID-19. Using a nasal or nasopharyngeal sample, it tests for parts of the SARS-COV-2 virus. Whilst not as accurate as the standard PCR test, they can help businesses screen employees for COVID-19 without long wait times.
Who can purchase a Rapid Antigen Test?
Tests can be supplied to businesses, organisations, and facilities that employ or engage a health practitioner to perform or oversee performance of the test. Tests are not available for home use or self-testing.
Who can conduct a Rapid Antigen Test?
COVID-19 Rapid Antigen Tests must be conducted by a trained health practitioner, or by another person under their supervision. The health practitioner and any other testers under their supervision must have been appropriately trained on the correct use and interpretation of the test.
Who is included as a 'health practitioner'?
A health practitioner includes a person who, under a law of a State or internal Territory, is registered or licensed to practice in any of the following health professions:
Aboriginal and Torres Strait Islander health practice
dental (not including the professions of dental therapist, dental hygienist, dental prosthetist or oral health therapist)
medical
medical radiation practice
nursing
midwifery
occupational therapy
optometry
pharmacy
physiotherapy
podiatry
psychology
For the purposes of the supply and use of Rapid Antigen Tests, paramedics are also included.
What happens if your Rapid Antigen Test is positive?
Anyone who receives a positive COVID-19 Rapid Antigen Test result should be referred immediately for a PCR COVID-19 test, and isolate until they receive their results.
How does a Rapid Antigen Test Work?
Please follow carefully the instructions given with the test kit for how to conduct and interpret the Rapid Antigen Test. If you require health practitioner supervision for your business, we will provide comprehensive training for your staff.
For a COVID-19 Rapid Antigen Test, a nasal swab or nasopharyngeal swab is used to collect a sample from the patient. Depending on the test, this can be conducted by the patient (self-collection) or the test provider. This swab is then immersed in a chemical solution, and a few drops of the solution are applied to a COVID test cassette. Different Rapid Antigen Test kits will have different waiting times for results, but most take between 10-20 minutes.
How often should testing occur?
For full time employees, Rapid Antigen Testing should be conducted every 2-3 days.
When should workers be tested during the day?
Ideally, workers undergoing Rapid Antigen Testing should be tested at the beginning of the day before they start work. This way, any positive cases minimise their exposure to other workers, before going immediately for a PCR test. For some larger organisations, this may not be practical, and staggered testing may be required.
What if my worker is symptomatic?
Rapid Antigen Testing is only intended to screen asymptomatic people. Anyone who displays COVID-19 symptoms, or are classified as a close or casual contact, must undergo a PCR test immediately.
Where does Rapid Antigen Testing sit in the overall COVID-19 testing hierarchy?
It is important to note that Rapid Antigen Testing is a screening and is not suitable as a diagnostic test. PCR testing remains the gold standard.
Does my business still need to maintain COVID-safe practices if Rapid Antigen Testing is implemented?
Rapid Antigen Testing is one of the tools to screen COVID-19. It does not replace COVID-safe practices including mask-wearing, hand hygiene and social distancing rules.
---
If are interested in purchasing these tests, please submit your interest using the form below.