Basic Automatic Freedom Plans
Commence treatment with just $1 upfront* + $36 fortnightly payments over 3 years
No large out-of-pocket costs and interest payments
Save up to 41% off RRP
No penalty to pay plan off faster
Freedom to mix and match CPAP brands
Comprehensive clinical care, through the 360 Care Plan and equipment maintenance coverage included with complimentary shipping
Plan Inclusions
The Basic Automatic Freedom Plan has been designed to make CPAP treatment more accessible, and at the same time provide comprehensive clinical care and CPAP accessories to optimise treatment for the long term. Patients can expect to receive everything they need from a clinical and maintenance perspective for the plan duration, and most importantly save more!
Speak with your doctor first to obtain a proper diagnosis and before commencing CPAP treatment. Always read the label, warnings and instructions for use, before purchase. If symptoms persist talk to your healthcare professional.
The table below details the product and service inclusions, as well as when you can expect to receive them.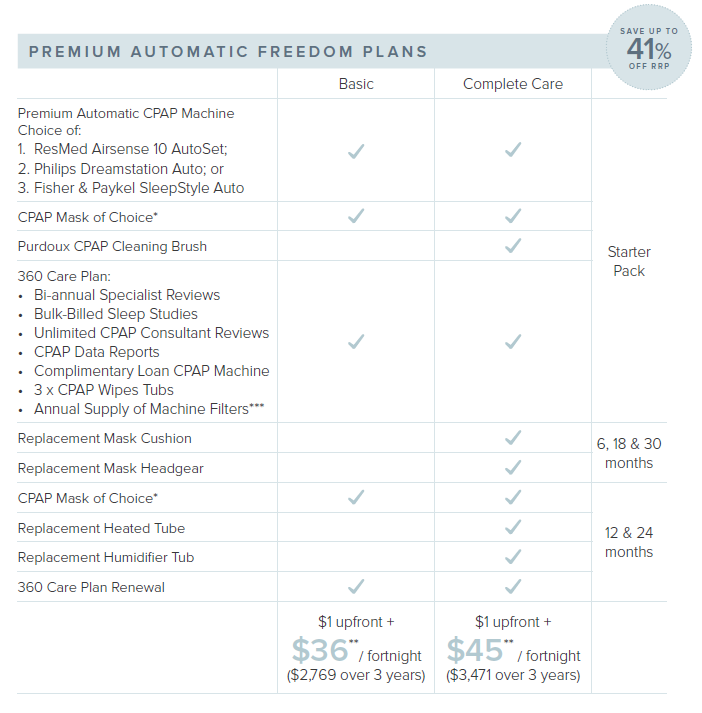 *DreamStation machine no longer available
DOWNLOADS:
Freedom Payment Plans Brochure
Optional Supplements
ResMed AirTouch Mask & Cushion: Upgrade to ResMed's AirTouch Mask System, which incorporates their more comfortable and disposable memory foam cushion. This supplement provides for a new mask annually as well as new memory foam cushions each month for the duration of the Plan. This all comes for an additional $6 / fortnight over 3 years.
Lumin Cleaning Machine: protect your CPAP investment with the Lumin Cleaning Machine, which disinfects with UV light in just 5 minutes for only an additional $5 / fortnight over 3 years
*Payment Plans to approved applicants only; fees, terms, conditions, minimum amounts and exclusions apply. Payment plans provided by Certegy Ezi-Pay Pty Ltd ABN 28 129 228 986. Specialist reviews and sleep studies are subject to medicare eligibility criteria.
Sleep Apnoea is a serious condition that needs to be properly diagnosed by your doctor. Speak to your doctor first before commencing CPAP treatment.