Complete Care Automatic Freedom Plan - Fisher & Paykel SleepStyle Auto
SPSAAA-FP-C
Fisher & Paykel
The Complete Automatic Freedom Plan has been designed to make CPAP treatment more accessible, and at the same time provide comprehensive clinical care and CPAP accessories to optimise treatment for the long term. Patients can expect to receive everything they need from a clinical and maintenance perspective for the plan duration, and most importantly save more!
Commence treatment with just $1 upfront* + $45 fortnightly payments over 3 years
No large out-of-pocket costs and interest payments
Save up to 41% off RRP
No penalty to pay plan off faster
Freedom to mix and match CPAP brands
Comprehensive clinical care, through the 360 Care Plan and equipment maintenance coverage included with complimentary shipping
The Fisher & Paykel SleepStyle Auto has simplicity and comfort woven into its design and function. Every detail was considered to make it easy for you to use. The device is packed with features such as SensAwake Techonology and Expiratory Relief Technology, which are designed to make Automatic Pressure (APAP) therapy more comfortable. The power supply and humidifier have been fully integrated to minimize the space taken up by the device on your bedside table. With the built-in cellular modem and Bluetooth technology enables users to keep track of their own progress as well as allowing remote monitoring by a clinician.
Plan Inclusions
The table below details the product and service inclusions, as well as when you can expect to receive them.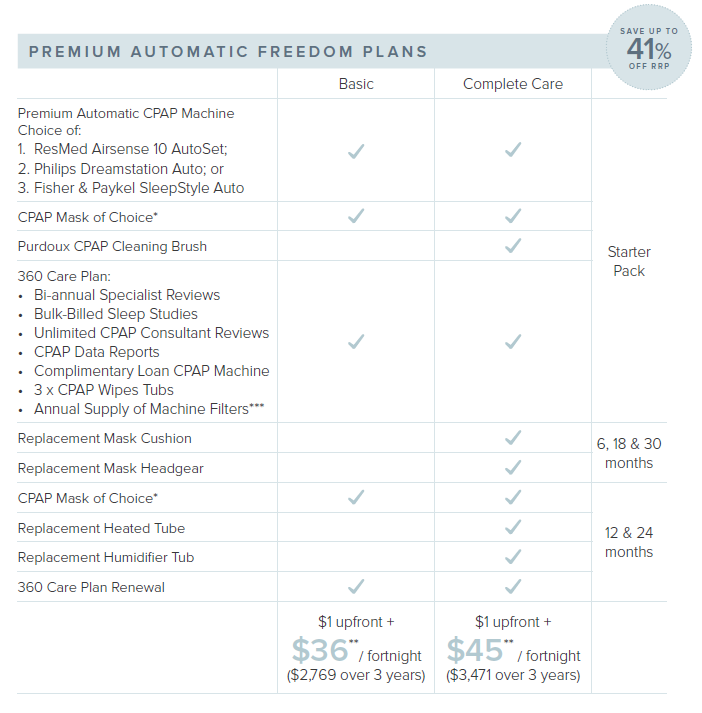 *DreamStation machine no longer available
DOWNLOADS:
Freedom Payment Plans Brochure
Working hard to load all the data…