ResMed Travel Freedom Plans
Commence treatment with just $1 upfront* + $31.50 fortnightly payments over 3 years
No large out-of-pocket costs and interest payments
Save up to 33% off RRP
No penalty to pay plan off faster
Freedom to travel with Portable Battery and DC Converter Kits included
Plan Inclusions
The ResMed Travel Freedom Plan covers everything you need for that upcoming camping, caravan or overseas holiday or business trip. See the table below for all product inclusions and when to expect to receive them.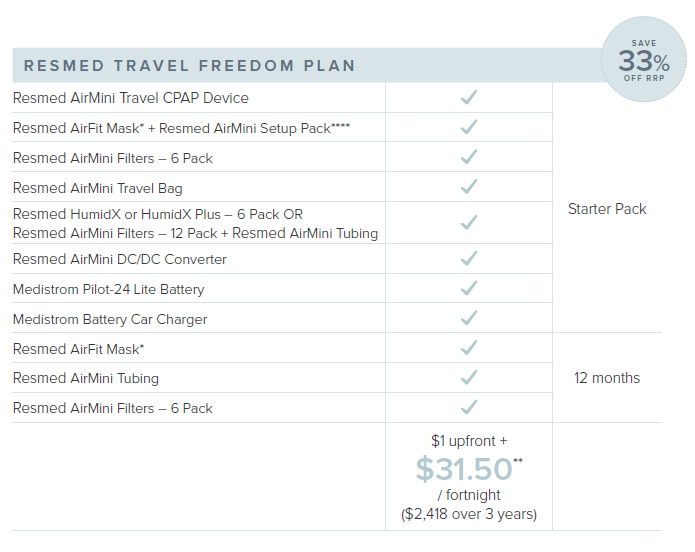 DOWNLOADS:
Freedom Payment Plans Brochure
Optional Supplements
Lumin Cleaning Machine: protect your CPAP investment with the Lumin Cleaning Machine, which disinfects with UV light in just 5 minutes for only an additional $5 / fortnight over 3 years
360 Care Plan: CPAP treatment is more than just purchasing a box. Studies have found that a more "intensive" clinical support progam procures superior clinical outcomes across a wide range of measures including significantly higher CPAP usage per night, less daytime sleepiness, lower hospitalisations and deaths from cardiovascular disease. The 360 Care Plan provides for all this and more for only an additional $10 / fortnight over 3 years.
*Payment Plans to approved applicants only; fees, terms, conditions, minimum amounts and exclusions apply. Payment plans provided by Certegy Ezi-Pay Pty Ltd ABN 28 129 228 986.