Saver Freedom Plans
Commence treatment with just $1 upfront* + $22 fortnightly payments over 3 years
No large out-of-pocket costs and interest payments
Save 28% off RRP
No penalty to pay plan off faster
Freedom to mix and match CPAP brands
Freedom to travel with DC Converter included
Plan Inclusions
The Freedom Saver Plan has been designed to provide everything you need to commence treatment and more. The table below details the product and service inclusions, as well as when you can expect to receive them.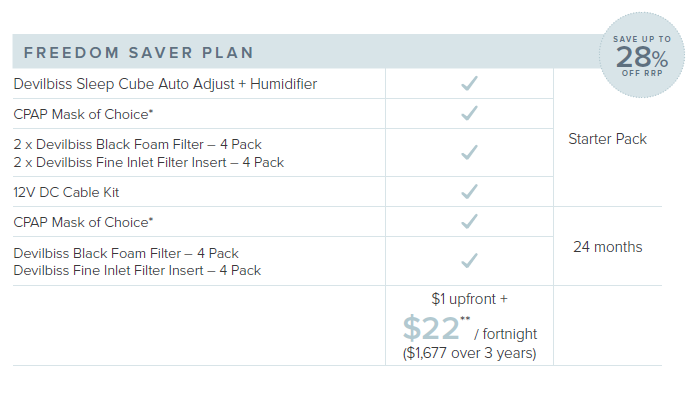 DOWNLOADS:
Freedom Payment Plans Brochure
Optional Supplements
ResMed AirTouch Mask & Cushion: Upgrade to ResMed's AirTouch Mask System, which incorporates their more comfortable and disposable memory foam cushion. This supplement provides for a new mask annually as well as new memory foam cushions each month for the duration of the Plan. This all comes for an additional $6 / fortnight over 3 years.
Lumin Cleaning Machine: protect your CPAP investment with the Lumin Cleaning Machine, which disinfects with UV light in just 5 minutes for only an additional $5 / fortnight over 3 years
360 Care Plan: CPAP treatment is more than just purchasing a box. Studies have found that a more "intensive" clinical support progam procures superior clinical outcomes across a wide range of measures including significantly higher CPAP usage per night, less daytime sleepiness, lower hospitalisations and deaths from cardiovascular disease. The 360 Care Plan provides for all this and more for only an additional $10 / fortnight over 3 years.
*Payment Plans to approved applicants only; fees, terms, conditions, minimum amounts and exclusions apply. Payment plans provided by Certegy Ezi-Pay Pty Ltd ABN 28 129 228 986.