COVID
The COVID-19 pandemic has generated much uncertainty and confusion. With the pandemic evolving daily, it is important to stay up to date on most current definition on symptoms, risks of COVID-19 and hotspots. It is just as important that we obtain information from accurate sources.
Here we have compiled some useful official governmental websites and articles to keep reliable sources at your fingertips – you may want to save this as a favourite page for easy access.
Hotspots for each State and Territory:
Read more...
COVID-19 symptoms continue to be updated. Check your symptoms with the online COVID-19 Symptom Checker to see if you should get tested.
Understanding the differences between masks, as well as when and how to wear them can be confusing. Click Here for our comprehensive guide.
Protect yourself and others: There are many ways you can protect yourself and others from COVID-19. Click Here for some useful tips.
The Big Picture: Keep up to date with the latest case numbers and statistics in Australia: Click Here
Keep up to date with the latest global COVID-19 statistics: Click Here
Learn more: We have created a page full of more useful links for you to use Here
ACT Chief Minister Andrew Barr has stressed the need for rapid antigen testing across Australia as ACT testing rates have dropped. As more people become fully vaccinated, the likelihood of cases being asymptomatic increases. By using quick tests to screen people, there is hope we can weed some of these asymptomatic cases out.
September 23, 2021
New modelling from the University of Melbourne suggests that even with 80% of the adult population vaccinated, we may still need to endure long lockdowns. They estimate that people will need to be in lockdown 58% of the year to keep deaths below 1000 a year and infections below 320 a day.
September 22, 2021
Queensland and WA have both flagged that they may not reopen to the rest of Australia until a 90% vaccination rate is reached. Both states have refused to sign up to the National Cabinet deal of reopening at 80% fully vaccinated, and have not released roadmaps for how they will transition out of the pandemic.
September 21, 2021
Both NSW and Victoria are pursuing high vaccination rates so that the states can reopen and learn to live with COVID-19. Restrictions will ease significantly for vaccinated people once 70% double-dose targets are hit – but this will look quite different between the two states.
September 20, 2021
NSW could relax isolation rules soon for close contacts as we work towards living with the virus. Close contacts of people with COVID-19 could avoid the 14 day self-isolation period if they are fully vaccinated and test negative. There is hope that this could stop huge staff shortages in hospitals and other essential workplaces.
September 17, 2021
Singapore has reported their highest daily case total in over a year, with 837 cases. 81% of the total population is fully vaccinated in Singapore – 90% of all people over 12. Importantly, we are seeing that over 98% of their local cases were asymptomatic or only had mild symptoms. Vaccines are helping to prevent severe cases of COVID-19, but it may be harder to detect cases.
September 16, 2021
NSW is trialling a home quarantine system with some of the Paralympic athletes returning home from Japan. Currently, 17 Paralympians are quarantining at home for 14 days with exemptions from the NSW government. All Paralympians who competed were fully vaccinated before heading to Tokyo, and will continue to undergo standard COVID-19 testing whilst in home quarantine.
September 15, 2021
A new pandemic advisory group, OzSAGE, has warned that additional measures are needed before restrictions are lifted. Without these, OzSAGE says COVID-19 cases will surge dramatically. NSW is currently set to ease restrictions once 70% of the adult population are vaccinated – which only comprises around 56% of the total population.
September 14, 2021
Pfizer-BioNtech will be seeking approval from regulators to give smaller doses of the Pfizer vaccine to children aged 5 – 11. They could be vaccinated within months as the rollout grows in Australia. Pfizer's clinical trials with children under 12 started earlier this year in March.
September 13, 2021
By June, Israel had vaccinated almost 80% of people 12 and over. They lifted nearly all COVID-19 restrictions with cases close to 0. However, daily cases have been climbing since late June, reaching a record high earlier this month at 16,011, with more people being hospitalised. Why has this happened, and what can Australia learn?
September 10, 2021
Around the world, we are hearing more reports of fully vaccination people getting COVID-19 – 'breakthrough' infections. Although it may seem like vaccines are failing, here's why you shouldn't worry too much.
September 9, 2021
Australia's vaccine rollout has been gaining pace, particularly in states with significant outbreaks. However, as soon as we finish the initial vaccine rollout, we may need to start a booster rollout.
September 8, 2021
A new study out of King's College London has found that the risk of long COVID is reduced by almost half for double vaccinated persons. Published in The Lancet Infectious Diseases, the study found that in the unlikely event that someone caught COVID after being fully vaccinated, their risk of long COVID was reduced by 49%, hospitalisation was 73% less likely, and even their risk of acute symptoms went down by 31%.
September 7, 2021
NSW Premier Gladys Berejiklian has said that NSW will never need to have a state-wide lockdown once 80% are fully vaccinated. She is confident NSW would hit 70% and then 80% fully vaccinated by mid-October. Over 40% of NSW eligible population are fully vaccinated, with 73.5% having received at least 1 dose.
September 5, 2021
Whilst many Australians are still waiting to get their first COVID-19 vaccine, others may be needing a booster shot very soon. Preliminary evidence from Israel, the US and the UK (1-3) suggests that Pfizer's effectiveness against infection declines significantly over the first six months, although still remaining effective against hospitalisation and death. For health care workers vaccinated at the beginning of the rollout in February and March, their protection has declined significantly, and will likely need booster shots soon.
September 2, 2021
Unfortunately, as the Delta variant spreads, we are seeing more COVID-19 cases in children. If you are a parent caring for your child with COVID-19 at home, here are some suggestions:
September 1, 2021
"I am hopeful that it [NSW's delta outbreak] is about to turn. Certainly, I think that that is probably what's going to happen." Prof Tony Blakely, a leading epidemiologist from the University of Melbourne offered this ray of hope to NSW residents. As NSW incredible vaccination rates continue, Prof Blakely says controlling COVID-19 should get easier. Already we are seeing a lowering rate of increase in cases, which is an indication the outbreak is slowing.
August 31, 2021
Federal Trade and Tourism Minister Dan Tehan has revealed that all states will need to be 80% fully vaccinated before the country reopens, forcing some states to wait on others. Currently, NSW are expected to reach the 80% target as early as the end of October, alongside Tasmania and the ACT. However, some states like Queensland are not expected to reach the target until December, or late November in the case of WA and NT.
August 30, 2021
COVID-19 vaccination will soon be mandatory for all health workers. The new public health order will be signed in the following days, having reached an agreement with the state's major medical groups. The current proposal would require all health care workers to have received their first dose by September 30 and second by November 30.
August 20, 2021
NSW is breaking daily COVID-19 case records nearly every day, with 681 cases recorded today. However, the other numbers revealed might be more concerning.
August 19, 2021
In a bid to get more people vaccinated, big companies like Telstra, Bapcor, and Virgin airlines are offering employees rewards if they get vaccinated. Telstra announced a $200 voluntary incentive for staff members who get fully vaccinated, including those already vaccinated. Automotive parts company Bapcor is offering workers a $100 gift card, and Virgin airlines are offering staff free tickets, frequent flyer points and business class flights. NAB has a slightly different program, promising to match every employee vaccination with a vaccination for someone in Fiji or Papua New Guinea with the 'Give the World a Shot' program.
August 18, 2021
New research from Johns Hopkins University has shown that people previously infected with COVID-19 are 4.5 times more likely to experience significant side effects from the first dose of a COVID-19 vaccine. Significant side effects included fatigue, fever and chills, with side effects such as injection site pain, mild fatigue and headaches considered mild. The good news is that 953 of the 954 healthcare workers studied developed strong antibody responses, regardless of any side effects experienced.
August 17, 2021
The NSW government was finally forced to call a total lockdown on the weekend, as cases continue to soar and spread out to regional areas. Unfortunately, the soft lockdown approach may have come at enormous cost. If a two-week total lockdown had been called when the Delta variant first appeared in Bondi, it would've cost less than $3 billion, if successful. Currently, the restrictions and lockdowns in NSW are estimated to have cost $17 billion, and counting.
August 16, 2021
Prime Minister Jacinda Ardern announced plans to reopen New Zealand's borders in early 2022 – without changing their COVID-19 elimination strategy. A risk-based system based on country and vaccination status will offer different travel pathways for people coming into New Zealand. Vaccinated travellers from high risk countries will still need to quarantine for 14 days, but vaccinated travellers from low risk countries can expect to avoid quarantine all together.
August 13, 2021
As of the 11th of August, there have been 357 COVID-19 cases admitted to hospital in NSW, with 60 people admitted to ICU. As the Delta outbreak continues, it's important to understand what severe COVID-19 is actually like.
August 12, 2021
The Therapeutic Goods Administration has provisionally approved the Moderna COVID-19 vaccine for use in Australia, with millions of doses expected over the upcoming months. So how does the Moderna vaccine work, and how is it different to the Pfizer?
August 11, 2021
Well-known epidemiologist Dr. Larry Brilliant has warned that the pandemic is far from over, saying, "I think we're closer to the beginning than we are to the end…" Currently, only 15% of the world population has been vaccinated, although over 100 countries have less than 5% of people vaccinated. Dr Brilliant warns, "unless we vaccinated everyone in 200 plus countries, there will still be new variants," which will continue to drive the pandemic like the Delta variant has. Dr Brilliant was part of the World Health Organisation's team that helped eradicate smallpox, and is now the founder of a pandemic response consultancy.
August 10, 2021
The Delta variant is putting young, healthy people at risk of fatal cardiac complications. Professor Jason Kovacic, from the Victor Chang Cardiac Research Institute, explained that the Delta variant appears to be causing more serious infections and complications in young people. Myocarditis (inflammation of the heart), and blood clots are some of the most concerning side effects seen with Delta. Prof Kovacic predicts, "It may be inevitable that more young people die as this outbreak is set to get worse, but hopefully it's a very, very, very low number."
August 9, 2021
New modelling from the Burnet Institute shows that NSW could exceed 500 daily cases as early as Friday, despite the lockdown. The modelling, based on data from Melbourne's second outbreak, shows that whilst cases in South Western Sydney are decreasing, cases throughout the rest of Sydney are doubling every 4-5 days. The experts behind the model are therefore calling for stricter restrictions across all Sydney. "Not only is this the equitable approach, but epidemiologically sound." Even with these restrictions, it could take until the end of September to reach a 7 day average of 5 cases a day.
August 3, 2021
Want to know what protection you'll have after your COVID-19 vaccines? Here are answers to 3 of the most common questions.
August 2, 2021
Australia's approach to COVID hasn't changed much since 2020. We are still heavily reliant on lockdowns, on the zero cases target, without a clear path to reopening Australia. Unfortunately, with our vaccinations rates still so low and the Delta strain running rampant, Sydney cannot afford to come out of lockdown right now. But how are we planning to reopen once our vaccination rates do catch up?
July 30, 2021
112 of the 467 COVID-19 exposure sites listed on NSW Health as of Wednesday are supermarkets or grocers. 47 Woolworths, 21 Coles, 14 Aldis, 12 IGAs and another 18 miscellaneous fruit and veg shops have made the list, composing around 24% of all exposure sites. Supermarkets have been a mix of close contact and casual contact venues, with varied risk, and sites have stretched from the central coast to the Central Tablelands to the Illawarra.
July 29, 2021
A new study published in the Lancet has found that people who have recovered from COVID-19 tend to score significantly lower on an intelligence test than those who have not contracted COVID-19. Cognitive underperformance was also associated with illness severity, with those hospitalized on a ventilator performing worse.
July 28, 2021
Epidemiologist Professor Adrian Esterman from the University of South Australia has said NSW lockdown strategy "is simply not working." NSW recorded 163 new cases on Saturday, 141 on Sunday, and 145 on Monday, with the five-day moving average still going up. Prof Esterman explained, "Clearly, it is either not hard enough, or there are too many Sydneysiders not complying with lockdown."
July 27, 2021
"Young people shouldn't think they're at no risk or even minimal risks. Because it's going to kill." Nobel Prize winner and infection expert Professor Peter Doherty has warned young Australians that they are at considerable risk of serious infection with the Delta COVID-19 strain. This follows the tragic death of a woman in Sydney in her 30s over the weekend, who had no pre-existing conditions.
July 26, 2021
Prime Minister Scott Morrison announced on Wednesday that by October, Australians should have access to an internationally-recognised vaccination certificate on their smartphone to help reopen international travel. The Australian government is looking to launch a 'digital health' smartphone app to store the certificates, along with COVID-19 test results, and other important health information such as yellow fever immunisations, allergy alerts, and organ donor status.
July 23, 2021
Governments around the world have all realised that COVID-19 disproportionately affects people of colour from cultural minorities. However, Australia is lacking clear data on how COVID-19 is affecting different ethnic groups. Professor of Sociology, Andrew Jakubowicz, believes gathering this ethnicity data during COVID-19 testing could help us get on top of the current outbreak.
July 22, 2021
New modelling from the Populations Intervention Unit at the University of Melbourne has shown that it could take until the first week of September for the Sydney lockdown to end. With Stage 4 restrictions now in place, the model shows we would drop below 5 cases a day by September 4.
July 21, 2021
New research from India's second wave shows that our COVID-19 vaccines are effectively curbing deaths and hospitalisations for the Delta strain. A new study led by the Indian Council of Medical Research's Nivedita Gupta shows that amongst patients infected after vaccination, only 0.4% died from COVID-19, with 10% needing hospitalization. 86% of these 'breakthrough' cases amongst vaccinated persons were caused by the delta variant.
July 20, 2021
The Delta COVID-19 variant's 'fleeting transmission' has continued to make headlines as outbreaks grow in Sydney and Victoria. But how much has the transmission of this virus really changed?
July 19, 2021
The number of COVID-19 patients in NSW hospitals has hit its highest number since April last year. As of Wednesday night, there were 73 COVID-19 positive patients in hospital, with 19 of those in the ICU. Just one month ago, we only had 1 COVID-19 patient hospital.
July 16, 2021
As of 11:59pm last night, masks are now compulsory for Victorians over the age of 12 in indoor public settings. Masks are also to be worn outdoors if social distancing isn't possible. These new restrictions are aiming to stem the outbreak of the Delta COVID-19 strain that started just days ago, stemming from NSW. 10 cases were recorded in Victoria yesterday, with the possibility of further restrictions hinging on today's case numbers.
July 15, 2021
Modelling from the Burnet Institute shows that the Sydney outbreak could continue for months unless stricter lockdown measures are implemented - possibly even past Christmas. The current measures are effectively preventing the outbreak from accelerating, but according to the Burnet model, will have limited effect on significantly reducing daily cases. However, implementing restrictions similar to the Victorian Stage 4 restrictions (curfews, closing non-essential retail, tightening open businesses) could drop daily cases to under 5 within 6 weeks according to the model.
July 14, 2021
The AstraZeneca COVID-19 vaccine is a two-dose vaccine, with a 12 week wait between the doses. However, in light of Greater Sydney's serious outbreak of the Delta strain, NSW health is now recommending anyone who has already received the first dose to consider cutting the wait to 6-8 weeks. Dr Kerry Chant explained that sacrificing some long-term protection was warranted given the more immediate protection it would provide during the current outbreak. The UK made similar recommendations in June as they battle a wave of Delta COVID-19 cases.
July 13, 2021
An elderly woman in Belgium has become one of the first recorded cases of two simultaneous COVID-19 infections. The 90-year-old woman had been infected with both the Alpha and Beta COVID-19 variants, and unfortunately passed away 5 days after her initial diagnosis.
July 12, 2021
The Delta variant of the coronavirus is the most contagious version worldwide. Research shows it spreads around 225% faster than the original Wuhan strain, and it is dominating outbreaks around the world. So why is it spreading so fast?
July 9, 2021
If you think COVID-19 only impacts the elderly, think again. Yesterday, Dr Kerry Chant revealed that of the 37 people currently in hospital with COVID-19, 14 were under 55; 8 of those are under 35. Early research suggests that the Delta strain is more transmissible amongst younger people than previous COVID strains, thanks to some key mutations. This is amplified by the low vaccination rates amongst young Australians due to the current stage of the vaccine rollout.
July 8, 2021
New research suggests the Lambda COVID strain may be more transmissible than the Delta strain ravaging many countries. The Lambda strain has spread to nearly 30 countries in the last four weeks alone. Originally discovered in Peru, it now causes 82% of the countries cases. Furthermore, Peru now has the highest COVID mortality rate in the world, at nearly 10% of recorded cases.
July 7, 2021
New data from the Israel Health Ministry has revealed that the Pfizer vaccine is continuing to work well against the new Delta variant, effectively preventing hospitalizations and serious illness. Israel has had one of the world's most effective vaccine drives – with around 57% of their population now fully vaccinated. Now, the Delta variant has spread to Israel, allowing us to see how it spreads in a country with high vaccination rates. From June 6 to July 3, the Pfizer vaccine prevented hospitalizations and serious illness with a 93% efficacy rate. However, the Delta variant seems to compromise Pfizer's efficacy at preventing overall infection – dropping from 94.3% to 64%.
July 6, 2021
As the coronavirus has evolved, common COVID-19 symptoms have been changing. In the UK, where the Delta strain dominates, a self-reporting system has shown that symptoms have changed. The most common symptoms have been headache, sore throat, runny nose, fever and a persistent cough – things most of us would brush off as a 'winter sniffle'. Loss of smell or taste is no longer particularly common with the Delta variant.
July 2, 2021
The World Health Organisation (WHO) is urging people to keep wearing masks and social distancing even if they have been fully vaccinated against COVID-19. With the alarming spread of the Delta variant, it is crucial that community transmission is limited as much as possible. As WHO Senior Advisor Bruce Aylward said, "once you've been fully vaccinated continue to play it safe because you could end up as part of a transmission chain."
July 1, 2021
The short fallings of Australia's vaccine rollout are becoming more and more obvious, as new data shows we are ranked dead-last amongst OECD countries. With less than 5% of the population vaccinated, Australia is one of the developed world's worst performers. Currently, vaccination rates are being led by Israel, Chile, and Iceland, who have 60%, 54%, and 52% respectively of their population fully vaccinated. Despite their large size, even the US has over 45% of their population fully vaccinated. New Zealand, with 7.9% of the population fully vaccinated, is second last.
June 30, 2021
The West Hoxton party acted as a superspreader event, with 24 people from the party of over 30 attendees testing positive for COVID-19. But this party has also shown the effectiveness of COVID-19 vaccines. None of the 24 people who tested positive were vaccinated. By comparison, the 6 fully vaccinated health workers and partially vaccinated aged care worker at the party have come out unscathed – not one has tested positive.
June 29, 2021
Sydney has been plunged into lockdown again, as health authorities try to stop the growing outbreak caused by the Delta variant of COVID-19. However, an expert from the Johns Hopkins Centre for Health Security, Dr Amesh Adalja, has warned that Australia's elimination/eradication strategy is not sustainable. "You have to remember that Covid-19 is not going to go anywhere." Instead, Dr Adalja says that Australia needs to ramp up its vaccination program to make sure high-risk individuals are protected so the disease becomes more manageable.
June 28, 2021
Premier Gladys Berejiklian described the situation in NSW yesterday as the "scariest period" for the state since the pandemic started. 49 locally acquired cases have arisen in less than 10 days. The Delta variant has radically changed how we think about close contacts of concern. Whilst at the beginning of the pandemic, we would have defined 15 minutes of close contact concerning, we are now seeing it can be as little as 5-10 seconds.
June 25, 2021
The national vaccine rollout plan, released yesterday afternoon, has revealed that AstraZeneca vaccine doses will be phased out by October. By this stage, it is expected most Australians over the age of 60 will be vaccinated. From October, AstraZeneca doses will be replaced with up to 2.3 million Pfizer doses per week around the country, as well as up to 614,000 Moderna doses. The AstraZeneca vaccine will be available by request.
June 24, 2021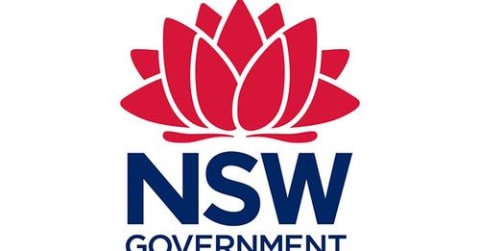 NSW has reintroduced many social distancing measures after 16 new COVID-19 cases were recorded. 10 of the new cases have been linked to the Bondi cluster, now at 31.
June 23, 2021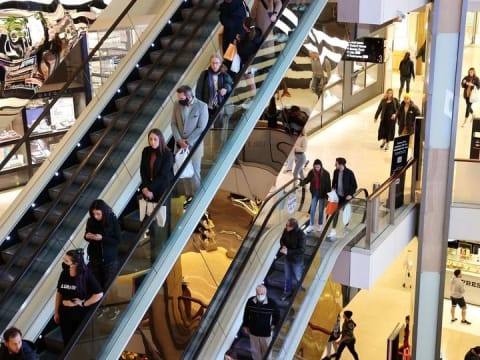 The Bondi COVID-19 cluster grew to 11 cases yesterday, with health authorities raising concerns at how easily the Delta strain is spreading. CCTV footage revealed the momentary crossover between two people that spread the virus – a moment described by Premier Gladys Berejiklian as "scarily fleeting" as they simply walked past each other.
June 22, 2021
Last Thursday, the federal government advised the recommended age for the AstraZeneca COVID-19 vaccine to be lifted from 50 to 60 years old. However, the vice-president of the Australian Medical Association is urging all Australians who have received their first dose of AstraZeneca to get their second dose. Dr Chris Moy explained, "The bottom line is the risk of getting a clot from the second dose is one-tenth an already tiny risk on the first one. And you need [the second shot] for long-term protection and to protect yourself from the variants." The Australian Technical Advisory Group on Immunisation (ATAGI) backs this advice, as the risk of clots is much lower for the second shot of AstraZeneca.
June 21, 2021
Health Minister, Greg Hunt, announced yesterday that 2.1 million Australians aged 50-59 will now be advised to take the Pfizer COVID-19 vaccine rather than the previously advised AstraZeneca vaccine. This decision comes off the advice provided by the Australian Technical Advisory Group.
June 18, 2021
Some medical experts are requesting a review of the recommending age group for the AstraZeneca vaccine following the death of a 52-year-old woman last week from a brain clot. Thrombosis with thrombocytopenia syndrome (TTS) is the condition behind these terrible incidents, and occurs at an extremely low rate of 1.8 cases per 100,000 (first) doses for over 50s getting the AstraZeneca vaccine. Amongst those aged 50-59, the rate is 1.9.
June 15, 2021
The Australian Technical Advisory Group on Immunisation has confirmed AstraZeneca as the COVID-19 vaccine of choice for over-50s after a second fatal clotting syndrome occurred. A NSW woman in her 50s developed a severe clotting syndrome, known as thrombosis with thrombocytopenia, after receiving her first AstraZeneca dose. Chief Medical Officer Professor Paul Kelly explained, "Our expert group on immunisation has re-looked at that extra information, made that risk-benefit analysis as they did some weeks ago now in relation to AstraZeneca [and] have confirmed that for people over 50 that should be the vaccine of choice."
June 11, 2021
Starting this week, Australians who have received 2 vaccine doses will be able to access a COVID vaccination certificate. The Australian Immunisation Register will be updated as a part of every Australian's myGov account and linked with Medicare, allowing people to access a digital certificate. Having evidence of vaccination will be key to relaxing restrictions long term, including border restrictions.
June 10, 2021
As of today, all Australians aged 40-49 are eligible to receive a COVID-19 vaccine. The preferred vaccine for this age group is the Pfizer vaccine – so what are the side effects of this vaccine?
June 9, 2021
Victoria's outbreak was rocked by a new discovery last week – that the new 'Delta' variant, seen most prominently in India, has emerged in Victoria. It's unclear how the family diagnosed with this variant contracted it. The Delta variant is of concern because it is significantly more infectious.
June 8, 2021
Australia's vaccine rollout has hit a new milestone: 5 million jabs! A record breaking 88,000 Australians were vaccinated on Saturday, with 772,750 vaccinated in the last 6 days. A big thanks to all Australians who are rolling up their sleeves and coming forward to be vaccinated.
June 7, 2021
Health Minister, Greg Hunt, has announced that a pilot program relaxing travel restrictions for vaccinated Australians could be launched in 6-8 weeks. The trial would allow vaccinated Australians to travel overseas and return with relaxed quarantine requirements. For instance, travellers returning from lower risk countries could take a rapid antigen test, a full COVID test, and leave quarantine once receiving negative results. Hopefully, this incentive will encourage more Australians to get vaccinated.
June 6, 2021
The United States has brought new COVID-19 cases to their lowest levels since March 2020, when the pandemic began. Cases are declining in nearly all states. Over half of American adults are fully vaccinated now, with almost all new cases amongst unvaccinated people. This is incredible success story shows the power of vaccines in controlling COVID-19, and should encourage Australians to go out and get their jab too.
June 4, 2021
As the drive for COVID-19 vaccination continues, many people are wondering how long it takes for the vaccine to work. COVID-19 vaccines don't offer instant protection – which is why it is important all people get vaccinated sooner rather than later. In fact, clinical trials have shown that your vaccine protection is optimal around 2 weeks after your second dose.
June 3, 2021
The lockdown in Melbourne has now been extended by 7 days as the Victorian COVID-19 cluster grows to 60 cases. This outbreak is one of the most infectious seen in Australia, with 1 in 10 of the positive cases catching the virus from a stranger. This 'stranger-to-stranger' transmission has been seen at grocers, shopping centres, display homes and even a Telstra Store.
June 2, 2021
Public sector aged care workers in Victoria will now have to be vaccinated against COVID-19 if performing front-line duties. Any frontline staff who haven't been vaccinated will be stood down from front-line duties to protect Victoria's most vulnerable amidst the latest COVID-19 outbreak. Currently, two aged care facilities have recorded cases amongst workers: Arcare Maidstone and BlueCross Western Gardens.
June 1, 2021
Australia's slow vaccine rollout has been caused by many things – supply issues, changing eligibility, side effects and complacency. In the face of these issues, mixing and matching COVID-19 vaccines could help boost vaccination rates and solve many rollout issues.
May 31, 2021
Victoria is waking up to the first full day of lockdown, as a highly infectious COVID-19 strain continues to spread across the state. Epidemiologists such as Professor Neil Ferguson are concerned that under 21s seem to be more likely to be infected by this strain, B.1.617. Patients with this variant have reported unusual viral symptoms, including abdominal pain, nausea, vomiting, and diarrhoea.
May 28, 2021
Another lockdown was announced by the Victorian government today to combat the growing cluster of COVID-19 cases. All Victoria will enter a 7-day circuit breaker lockdown at 11:59pm tonight. This comes as over 150 exposure sites around Victoria have been identified, along with 11 new cases overnight. Over 10,000 primary or secondary contacts have been identified.
May 27, 2021
Melbourne's current COVID-19 outbreak has now grown to 9 cases, with key infection links still missing. One case attended the MCG AFL game on Sunday, with 23,000 other fans now on high alert. A snap lockdown has not been ruled out by acting Victorian Premier James Merlino.
May 26, 2021
All Australians over 50 are now eligible for the AstraZeneca COVID-19 vaccine. However, many are waiting for an alternative vaccine. Director of Infectious Diseases at Mater Health Services, Paul Griffin has warned that we won't be able to control COVID-19 forever with border closures. He has cautioned that anyone waiting for a different vaccine is not only putting themselves at the back of the queue, but is also subjecting everyone to unnecessary risk.
May 25, 2021
Skateboarding is making its debut at the Olympics this year, but unfortunately 2 members of the Australian Olympic team are now out of the running after testing positive to COVID-19 before the qualifying event. One of the athletes is only 13 years old, and one coach also tested positive.
May 24, 2021
The Indian COVID-19 variant, B.1.617.2, has now spread to 48 countries and every continent excluding Antarctica. This variant is thought to be more infectious than previous strains. 2,915 cases of the variant have been recorded in the UK, with 776 in India, although the latter is likely to be much lower than the true number of cases. 74 cases have been recorded in Australia.
May 21, 2021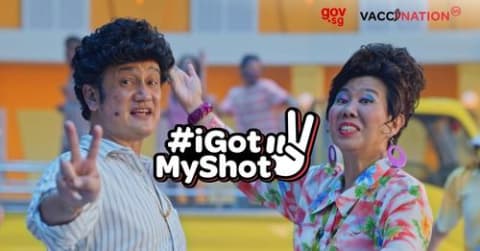 Both the New Zealand and Singapore government have rolled out funny and informative ads encouraging citizens to get their COVID-19 jab. Both use every day local language, and address concerns of the community. Should Australia be following suit?
May 20, 2021
Researchers from Australia and the US have developed a new antiviral that reduced the amount of coronavirus in infected mice by 99%. The antiviral uses gene-silencing RNA technology, which finds the viral genome and destroys it so the virus can't replicate anymore.
May 19, 2021
Less than two months ago, Taiwan was thriving. With fewer than 1000 cases in total over 12 months, their world-class quarantine and tracing measures were allowing them to enjoy life with very few restrictions. Now, they are in lockdown. A pilot tested positive for COVID-19 on April 20, leading to over 333 cases as of yesterday. Similar stories have arisen in Japan, Thailand, Singapore and South Korea with 2 key similarities: successful containment of the virus, followed by a complacent and sluggish vaccine rollout.
May 18, 2021
As of the 17th of May, people aged 50 and over are now eligible to receive the AstraZeneca COVID-19 vaccine from selected GPs, respiratory clinics and mass vaccination hubs. Here's what you need to know:
May 17, 2021
The Australian government has secured 25 million Moderna COVID-19 vaccine doses, with 10 million to be delivered this year. The Moderna vaccine is a 2 dose, mRNA vaccine that has been shown to be 94.1% effective at preventing COVID-19 in clinical trials. Here's what you need to know:
May 14, 2021
A new University of NSW study has found that viral misinformation about COVID-19 and vaccines is spreading extremely quickly on online platforms. The research team reviewed over 600 pieces of misinformation, written in 24 different languages, originating from over 50 countries, which over 100 million people shared, liked, re-tweeted or reacted to. 17 rumours were found to be coming from Australia, although most false claims were found to be originally from the United States.
May 13, 2021
The World Health Organisation (WHO) has announced that the number of COVID-19 cases and deaths around the world is plateauing. In most areas the pandemic is declining, including in the Americas and Europe. Currently, approximately 5.4 million cases and 90,000 deaths are being reported a week – still an alarmingly high number.
May 12, 2021
Early results from an Australian study have shown that most COVID-19 patients are still experiencing symptoms 6-12 months after infection. The COVID Recovery Study has tracked around 200 patients around Australia, finding that 30% of people were 'alive and disability free' 6 months after contracting the virus. 70% of patients were still experiencing symptoms including shortness of breath, weakness, tiredness, coughing or headaches 6 months on.
May 11, 2021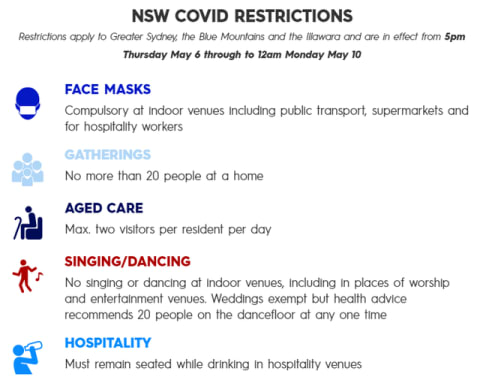 A range of restrictions have been reintroduced in NSW after 2 community COVID-19 cases have arisen in the past 48 hours. Restrictions came into effect yesterday at 5pm across Greater Sydney, including Wollongong, Central Coast, and Blue Mountains. Restrictions will be in place at least until 12am Monday May 10.
May 7, 2021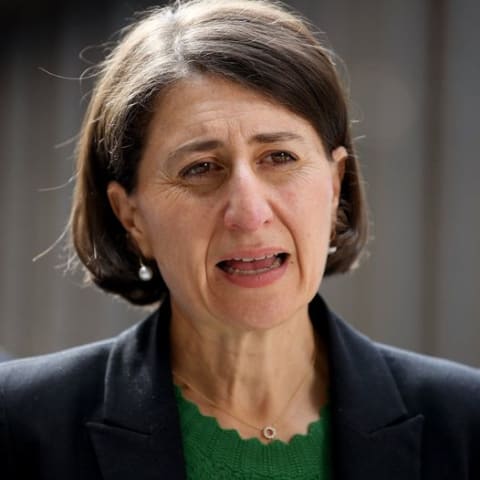 A Sydney man has tested positive for COVID-19, with Premier Gladys Berejiklian warning that other cases are likely to follow. The man visited several venues in Sydney's east and north whilst potentially highly infectious.
May 6, 2021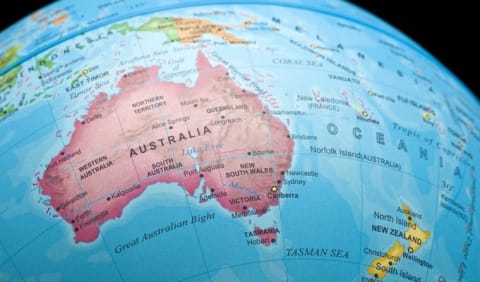 A new study published in the Lancet found that countries with COVID-19 elimination strategies, not mitigation strategies, have had fewer deaths and better economic outcomes. COVID-19 deaths per one million people in countries like Australia, New Zealand, Japan, South Korea and Iceland were 25 times lower than other countries. These countries have also experienced better economic outcomes, with GDP growth returning to pre-pandemic levels early this year. Growth is still negative for the other countries studied which used mitigation strategies.
May 5, 2021
India has now reported over 300,000 daily new coronavirus cases for close to 2 weeks straight – but did you know Brazil is currently recording a far higher death rate? Last week, Brazil passed 400,000 COVID deaths – the US being the only other country to do so. Brazil's death count is almost double India's, despite having around 5 million fewer cases – why?
May 4, 2021
As of today, May 3rd, any Australian aged 50 or older is eligible for COVID-19 vaccination. The AstraZeneca vaccine will primarily be used for this group, so here's 3 things you should know about the vaccine.
May 3, 2021
The Medical Journal of Australia recently published a report highlighting several examples of COVID-19 spreading through faecal aerosols – that is, by toilet flushing. An outbreak in an apartment building in China showed that the virus spread to rooms directly above, which fed into the same sewage pipe.
April 30, 2021
Since the Peppers Hotel COVID-19 leak in Adelaide in November, there have been over 16 hotel quarantine leaks in Australia's major cities. In the past week, 6 Australians have caught the virus whilst in quarantine. Although some leaks have been minor, Melbourne's second wave and the December Avalon cluster are reminders of how big these leaks can grow. So what's going wrong?
April 29, 2021
In a situation that has baffled experts, 52 passengers on a flight from India to Hong Kong have tested positive to COVID-19, despite testing negative before boarding. During Hong Kong's mandatory 3-week quarantine period, over a third of the total passengers have tested positive. The airline has reported that it complied with all health guidelines.
April 28, 2021
Suva, the Fijian capital entered a 14 day lockdown on Monday as a result of a 'superspreader' funeral event. Non-essential businesses have been shut down, and around 100,000 people must remain in containment zones.
April 27, 2021
India reported 314,835 new cases of COVID-19 yesterday, the highest daily increase ever seen. The previous record was held by the United States, with 297,430 cases in January.
April 23, 2021
Right now, Australia is seriously lagging in the vaccine rollout. It is critical that over 50s are getting the AstraZeneca vaccine as quickly as possible, and that under 50s are receiving an alternative soon. But going forward, mRNA vaccines such as Pfizer are our best bet – here's why.
April 22, 2021
Prof Tony Blakeley, Professor of Epidemiology at the University of Melbourne has broken down what could happen if Australia opens its borders to the rest of the world – describing the situation as a 'tinderbox' ready to blow.
April 21, 2021
Prime Minister Scott Morrison has warned Australians that if international travel restrictions are widely lifted, Australians would have to get used to dealing with "a thousand cases a week or more." This would end the national cabinet's goal of zero community transmission.
April 16, 2021
Australia is turning to other vaccine options now that the AstraZeneca vaccine is no longer the preferred vaccine for adults under 50. A total of 40 million Pfizer vaccine doses have been ordered, but Australia also has a deal for a third vaccine – the Novavax vaccine.
April 15, 2021
Both the AstraZeneca and Johnson & Johnson vaccine have been linked to a rare blood clotting condition known as cerebral venous sinus thrombosis (CVST). CVST occurs when a blood clot forms in one of the veins responsible for draining blood from your brain. The condition has been observed around 1 in 350,000 AstraZeneca vaccinations, usually between day 4-20 post-vaccination.
April 14, 2021
The Therapeutic Goods Administration (TGA) announced late last week that Pfizer COVID-19 vaccine can now be stored and transported at normal freezer temperatures for up to 2 weeks (-15C to -25C). It can also be kept unopened at normal fridge temperatures for 5 days. This is a huge step forward in enabling the Pfizer vaccine to be distributed more widely.
April 13, 2021
"This is not the beginning of the end, this is the beginning of a new era." Professor of Epidemiology Mary-Louise McLaws has warned Australians that the vaccine roll-out will not snap the world back to normal. Currently, approximately 16 million vaccine doses are being given daily. At this rate, the world would reach herd immunity in 2 years (75-85% vaccinated) – but huge vaccine inequities will leave many countries behind.
April 12, 2021
In a press conference last night, the Prime Minister and Health Minister announced new advice from the Australian Technical Advisory Group on Immunisation (ATAGI) regarding the AstraZeneca vaccine. Due to the very rare side effect of particular blood clotting syndromes, the ATAGI has recommended the Pfizer vaccine to adults under 50 over the AstraZeneca vaccine. Given the higher risk of severe COVID-19 outcomes for adults over 50, the AstraZeneca vaccine is still very beneficial.
April 9, 2021
In the wake of blood clotting concerns, people aged 18-29 in Britain will be offered an alternative vaccine to the AstraZeneca vaccine. Australian authorities will have to consider whether they will follow the same directive.
April 8, 2021
Australia's National immunisation surveillance system, AusVaxSafety, is giving Australians insight into how they might react to a COVID-19 vaccine. Overall, 51.5% of Australian responders reported no side effects after their vaccination, with 48.5% experiencing at least one side effect. The most common side effects have been pain at the injection site, fatigue and headaches. However, only 1.2% had bad enough side effects to visit a doctor or hospital.
April 7, 2021
Achieving herd immunity against the coronavirus has been the key goal for scientists, health workers and governments around the world. However, given Australia's vaccine hesitancy rates, we may struggle to reach it here. Without herd immunity, opening international borders and returning to a pre-COVID normal will be extremely difficult.
April 6, 2021
Yesterday, Pfizer announced that their COVID-19 vaccine was shown to be 100% effective in a study of 12-15 year olds. The US trial involved 2,260 participants, with 18 confirmed COVID-19 cases observed in the placebo group and 0 cases in the vaccine group. The shot was well-tolerated, produced a strong antibody response, and had similar side effects to those seen in adults.
April 1, 2021
2 clusters in Brisbane have now arisen from unvaccinated healthcare workers from the Princess Alexandra Hospital. As of Tuesday, 18 cases have been linked to these outbreaks. There is concern that states hoarding vaccine doses may have contributed to the outbreak. Vaccination of staff in COVID-19 wards only became mandatory today in Queensland, as previously there was concern over the number of vaccines available.
March 31, 2021
After 4 new cases were added to the Brisbane cluster yesterday, Premier Annastacia Palaszczuk announced a snap three-day lockdown. Residents of Brisbane, Logan, Moreton Bay, Ipswich and the Redlands can only leave their homes for grocery shopping, exercise, essential work, and caring for vulnerable people. The lockdown will until at least Thursday afternoon.
March 30, 2021
Shift workers often experience diminished sleep quality which comes with several health consequences – and research has revealed that COVID-19 is one of them.
March 29, 2021
Dancing, singing, home visitors – restrictions have now been lifted on all of these as NSW takes another step towards pre-COVID normal. NSW has recorded two local cases in the past two months, both linked to the quarantine system. Epidemiologist Dr Heather Gidding of the University of Sydney has said NSW deserved an 'A' grade for its pandemic response.
March 29, 2021
Papua New Guinea had no confirmed COVID-19 cases in June last year, and continued to have extremely low numbers of cases throughout 2020. However, the island nation has now been overwhelmed by cases as the virus runs rampant. More than 3,000 cases of COVID-19 have been recorded in PNG; two-thirds of those occurred in the last month alone.
March 26, 2021
Australia's management of COVID-19 has become the envy of many countries around the world. But what key factors have helped us to keep case numbers down even without vaccines?
March 25, 2021
Australia's notoriously strict hotel quarantine rules may be relaxed in the upcoming months. Changes to both the length, and hotel stay have been flagged. The Department of Health Secretary Brendan Murphy announced, "We might think about reducing the length of quarantine or more home quarantine particularly for vaccinated people. Our risk tolerance will change over the second half of this year."
March 22, 2021
The EU drug regulator, European Medicines Agency (EMA), is urging countries to resume the rollout of the AstraZeneca vaccine after finding no link between the jab and a higher risk of developing blood clots.
March 19, 2021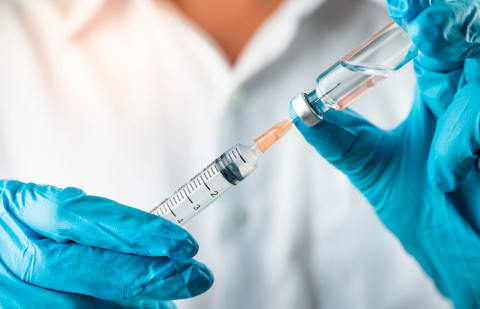 Never before has a vaccine been developed so quickly – usually, it would take many years. As a result, many people are concerned that the safety of the vaccine has been compromised for the sake of speed. But Professor Jamie Triccas, head of infectious disease and immunology at the University of Sydney, explains why the speed of the vaccine development shouldn't be a cause for concern.
December 1, 2020
Only 20% of new COVID-19 cases present with a fever, according to the latest epidemiological data available from the Australian National Incident Room Surveillance Team. Originally, this was thought to be one of the most common symptoms of COVID-19.
November 11, 2020
We are seeing COVID-19 spread to millions of people around the globe – but how exactly is it spreading? And how can you protect yourself?
November 11, 2020
At the beginning of the COVID-19 pandemic, doctors began to notice a concerning trend in those severely ill from COVID-19 – many were obese. Now, larger population studies have shown that overweight persons are at a significantly higher risk of falling critically ill with COVID-19.
November 11, 2020
A recent study published by the CSIRO in Australia found that the COVID-19 virus can survive for up to 28 days on surfaces like banknotes and glass – including your mobile phone screens.
November 11, 2020
"Much has been said about how the world will return to normal when a vaccine is widely available. But that really won't be true." David Salisbury, former director of immunisation at the Department of Health in London, has warned those pinning their hopes on a COVID-19 vaccine.
November 11, 2020
As Australia gets a better hold of the COVID-19 pandemic, workers are being encouraged to return to the office to fire up the economy again. So how can businesses make sure they return to work safely? Here are 5 important actions to put in place.
November 11, 2020
As the months drag on, we continue to see that COVID-19 isn't just another flu. Many people are currently facing severe and long-term complications from this disease that we are only beginning to understand. The latest concern? Parkinson's disease.
November 11, 2020
We are all eagerly awaiting a COVID-19 vaccine to help fight the pandemic. But currently, no COVID-19 vaccine has been developed for children.
November 11, 2020
A recent study has revealed that the prevalence of coronavirus antibodies declined rapidly in the British population during summer. This provides evidence to suggest that we may not naturally acquire long-lasting immunity to coronavirus after being infected.
November 11, 2020
According to a recent survey from the Heart Foundation, as many as 500,000 Aussies with heart disease are skipping check-ups during the pandemic.
November 11, 2020
With so many different types of face masks, it can be difficult to figure out which one is right for you during this pandemic. To help you out, we have created a guide to face masks for you to use.
November 4, 2020